This post has been sponsored by Pomora.  All content, thoughts & opinions are always my own. This post contains affiliate links and may contain Amazon affiliate links.  
Try this simple & delicious Kalamata Olive Tapenade made with black & kalamata olives, olive oil, capers, anchovies & garlic!
Food Made Simple & Delicious
Sometimes simple recipes can be so impressive.
That's certainly the case with this Kalamata Olive Tapenade.
I've always been an advocate of keeping things as simple as possible in the kitchen. Life is too busy, and too short for that matter, to be fussing over extensive ingredients on a daily basis.
The key to great food made simple is keeping quality ingredients on hand.
Pomoro Olive OIl
Olive oil. I thought I knew good olive oil. There are always a few bottles around – one for cooking, one for dipping, one for dressings.  
Then I was introduced to Pomora Olive Oil. I was a believer at first taste. The amount of depth & flavor in this oil – it's like nothing I've tasted before.
It's safe to say there is no turning back for me.  The quality and flavor is second to none.  The story of the oils is just as beautiful….
Pomora is committed to supporting small, independent growers. Their farmers have generations of experience behind them and employ traditional & sustainable farming methods. They respect the land which supports them and they take care of their employees!
Pomora has created an "Adopt An Olive Tree" program where you receive four shipments a year from your tree. These oils come from gold-medal winning, independent family growers. The flavor of the olive oil will vary each shipment – the tastes are wondrously unique to each season.
Ingredients
I use good kalamata olives and black olives for this tapenade. You can use any olive that your heart desires ♥
Make your olive oil count – of course I used Pomoro Olive Oil in this recipe and it makes all the difference.
You'll see I add anchovies to this tapenade. Trust me – add them. There is no fishy taste to this recipe – it just gives it that umami taste we all love but may not understand.
Preparation
Everything goes into a food processor. Pulse, scrape, pulse. Don't over process it. Serve immediately or refrigerate until ready to serve.
I made two batches – one coarser, one a bit more pureed. I suppose I preferred the one with a bit more texture, but both were so delicious I'm not sure I could choose a favorite.
Thanks so much for stopping by!
Amanda ♥
Click below to learn more about Pomora!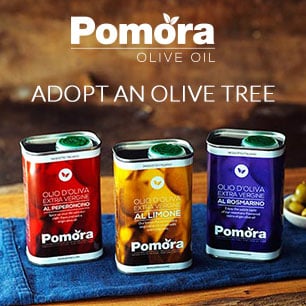 Kalamata Olive Tapenade
Try this simple & delicious Olive Tapenade made with black and kalamata olives, olive oil, capers, anchovies & garlic.
Ingredients
1 1/4

cup

pitted olives – I used half Kalamata and half black

2

tablespoon

Olive Oil

best quality

2

tablespoons

capers

2

cloves

garlic

minced

2

anchovies

pinch

of black pepper
Instructions
Combine all ingredients in food processor.

Process until desired consistency, stopping to scrape down sides once or twice. Do not over process.

Serve immediately with baguette slices or good crackers or refrigerate until ready to serve.

Enjoy!